May Murkee is the main antagonist in the first grade series. She is a conceited bully who pesters Junie B. while trying to make herself look extra special.
May Murkee

"Tattletale" May

Age

6-7

Birthday

May 1987 (possibly)

Friends

Mr. Scary (one-sided on her side)

Rivals

Room

1

Family

Mary Murkee (mother)
Mr. Murkee (father)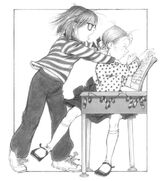 Personality
Edit
May is a pushy tattletale and she's very nosy. In "Jingle Bells Batman Smells(PS so does May), she looked at Junie B's journal and told on her for writing that she is a blabbermouth.
In "Shipwrecked" she is also shown to be very pushy.
Appearance
Edit
May has blonde hair kept in braids, blue eyes and freckles.
Interests
Edit
Tattling on people
Cops
Her mother Mrs. Mary Murkee
Getting attention
Perfection
Mostly Junie B.
Being tattled at
according to the book "turkeys we have loved and eaten (and other thankful stuff)" her last name is murkee.
Name in french
Marion She and junie b. somtimes get along though like in jingle bells batman smells (p.s so does may) Junie b. got may a squeeze-a-burpp like she wanted.