Junie B. Jones and That Meanie Jim's Birthday is the 6th Junie B. Jones book. It is in the kindergarten series.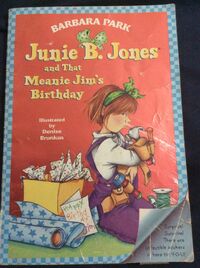 Junie B is very upset when Jim, a boy who bullies her in class, plans to invite everyone except her to his birthday party, but her family helps her deal with the situation.
Junie B.'s constant bully, Jim, is having a birthday party that he doesn't invite her to, and Junie B. feels left out. He makes it a mission to get everyone in the class to attend his party except Junie B. Jones. She wants revenge so she wants to plan her own birthday party six months early and invite everyone but Jim, but it doesn't work out with her mom. She doesn't want to be the odd one out, so she wants Jim to give her an invitation even though she doesn't like him. He reluctantly obliges, giving her an invitation. However, after realizing that she has to look good and buy a gift for the party, Junie B. Jones decides not to attend after all, and spends the day fixing her grandparents' toilet with her grandpa, which she enjoys.
Junie b jones is also very competitive with herself . Tries to beat everybody/everyone
Junie B. was born on June 1st (as mentioned in Junie B. Jones is a Graduation Girl), six months after Jim, meaning that Jim must have been born on or around December 1st. It also means Jim is older than Junie B, assuming they were born in different years.
This is Jim's biggest role, although his role in Junie B. Jones and the Mushy Gushy Valentime comes at a close second. This is also Jim's biggest antagonistic role.
Ad blocker interference detected!
Wikia is a free-to-use site that makes money from advertising. We have a modified experience for viewers using ad blockers

Wikia is not accessible if you've made further modifications. Remove the custom ad blocker rule(s) and the page will load as expected.