Welcome To The Junie B. Jones Wiki!
Edit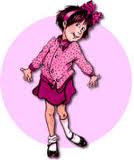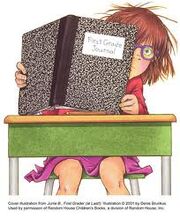 This is a place to learn about Junie B and her friends, (and her enemies) and the books. 
Junie B. Jones is a children's book series written by Barbara Park and illustrated by Denise Brunkus. Published by Random House from 1992-2013, the stories begin with Junie B. Jones and the Stupid Smelly Bus, in which Junie B. is an "almost six year old" starting her first day of kindergarten.

Since the original book was published by Random House in 1992, thirty-three other Junie B. Jones books have been published. Twenty-eight books belong to the Junie B. Jones Series and there is also a Junie B. Jones Journal. The Junie B. Jones series has also been translated into Spanish and French.
Latest activity
Edit
Ad blocker interference detected!
Wikia is a free-to-use site that makes money from advertising. We have a modified experience for viewers using ad blockers

Wikia is not accessible if you've made further modifications. Remove the custom ad blocker rule(s) and the page will load as expected.