Jim (born circa December 1, 1986) is Junie B.'s Kindergarten rival. He teases her early on in the series. In "Junie B. Jones and That Meanie Jim's Birthday", he didn't invite her to his party, even though his mom told him to give out invitations to the whole class. He also called her "Goony Bird Jones". But in Junie B. Jones and the Mushy Gushy Valentine, he admits he has a crush on her through the valentine and they eventually become friends. In "Junie B. Jones is a Graduation Girl", after he heard about Junie B.'s grape juice accident, he tells the class to color their white gowns and caps with markers so Junie B. wouldn't be different. Like several other Kindergarten children, he isn't seen in the First Grader Series.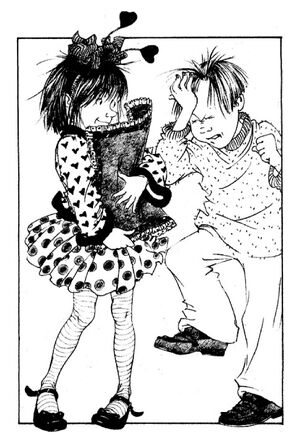 Ad blocker interference detected!
Wikia is a free-to-use site that makes money from advertising. We have a modified experience for viewers using ad blockers

Wikia is not accessible if you've made further modifications. Remove the custom ad blocker rule(s) and the page will load as expected.