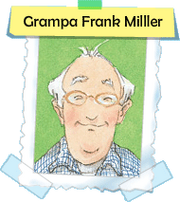 Grandpa Frank Miller is Junie B.'s grandpa and one of her closest adults, as he can easily relate t
o her. 
He is believed to be the maternal grandparent of 
Junie B. Jones
.
Grandpa Miller is married to Helen Miller, Junie B.'s nice but serious grandma. Grandpa Miller loves lemon pie and likes to eat it with Junie B. Although he is laid-back, he is 
more
 serious when Junie B. gets in trouble and gets upset if Junie B. disobeys him or another person. His first appearance is in
Junie B. Jones and a Little Monkey Business, when
 he and his wife get excited about baby Ollie and his wife affectionately calls him "a cute little monkey".
in Junie B. Jones Is Not a Crook , after Junie B. loses the fuzzy mittens he bought for her, he talks about how he lost his wallet at the mall but someone then returned it the next day. Frank is relieved because his wallet has a beloved photo of him and Junie B.
Junie B. also enjoys helping Grandpa with odd jobs at the house. Their favorite project is fixing the upstairs toilet.